May 16 is National Barbecue Day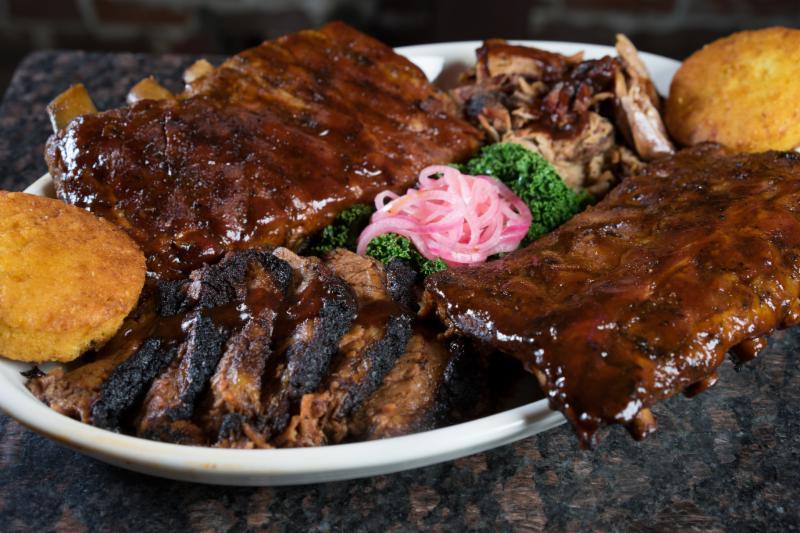 Why yes, it is National Barbecue Day and we thought we would share some Mesa Chamber members that you can support on this all important day:
Bobby-Q [Directory Listing]- Bobby-Q opened in 2005 at the former site of Bobby McGee's, offering a culmination of barbeque favorites. In addition to their extensive barbecue research mixed with culinary expertise, the secret behind Bobby-Q's barbeque lies within the slow cooking process over Tennessee hickory wood paired with the perfect blend of spices found in the special dry rub for the meat, as executed by barbeque master, Executive Chef Mark Hittle.

JJ's Grubb Shack [Directory Listing]- The inspiration of JJ's Grubb Shack, a local family owned business came from owners JJ & Regina's Colorado backyard barbeques and catfish fry's with their family and friends.
Established in 2012, as a small restaurant in a local Arizona liquor store, owners JJ Holmes and his wife Regina, decided to bring to life their backyard memories with family and friends in Colorado and Arizona. These memories were of everyone being welcomed and no one being considered a stranger!

Rudy's Country Store Bar-B-Que [Directory Listing]- Just north of San Antonio, at the edge of the Texas Hill Country, sits the small community of Leon Springs. Founded in the 1800s by Max Aue, Leon Spring's cityscape changed when Max's son, Rudolph, opened a one-stop gas station, garage, and grocery store. Bar-B-Q was added to the operation in 1989, and Rudy's "Country Store" and Bar-B-Q has been serving up tasty food ever since.

Texas Roadhouse [Directory Listing]- They like to brag about their Hand-Cut Steaks, Fall-Off-The-Bone Ribs, Made-From-Scratch Sides, and Fresh-Baked Bread. Everything they do goes into making their hearty meals stand out. They handcraft almost everything they serve.

Uncle Bear's Grill & Tap – Baseline [Directory Listing]- He was a fun loving good fella, of the Labrador mix named "Bear". In the good ole' days as a young pup, he could be found cruising the college campus at Texas Tech University in Lubbock, body surfin' at Doggie Beach in Ocean Beach (San Diego), skiing down the snow capped mountains in Ruidoso, New Mexico, relaxing in the Hot Springs of Arkansas and finally making his home in the Valley of the Sun. Since Bear was an active dog and on the go, he wanted to create a place where he and his friends could "Come, Sit And Stay". Uncle Bears' Grill and Tap is that place.

Uncle Bears Grill & Tap – Greenfield [Directory Listing]- "Come, Sit & Stay" for old-fashioned style Craft Bear's Burgers, a wide variety of sliders and wings, Tex Mex favorites and award-winning craft beer brewed from their own UB production brewery and delicious libations. Uncle Bear's offers a menu rich in original recipes and time-honored traditions.
As you can see, there are some GREAT choices! get out there and seize the day (or barbecue as it were).