Capital Opportunity Program
Thank you to our current Program Partners: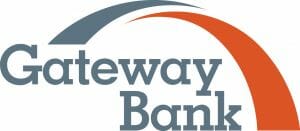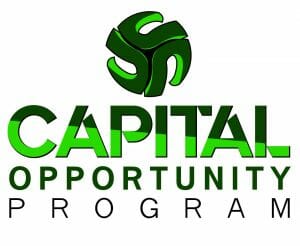 The Mesa Chamber Capital Opportunity Program is a new and unique tool used by our members and others to help bridge a critical gap between the needs of business in Mesa for capital and the resources that are available from them to acquire it.
The program features financial partners that work closely with the Chamber to help create opportunities for referral.
The program also educates and collaborates with businesses on funding opportunities in other areas, including grants, angel investing and others.
Businesses looking for Capital are guided through a process to prepare their request, then connected to the potential sources that provide the best chance for a successful conclusion.
An interested business DOES NOT need to be a Chamber member to participate.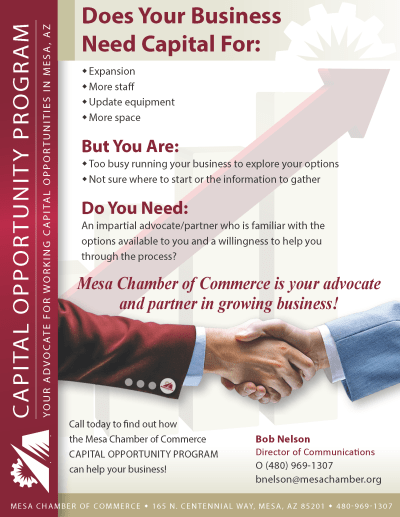 Increase capital investment among Chamber member businesses
Increase the successful Capital Opportunity process for participating institutions
Create positive dialogue in the community surrounding Mesa's creative business class as an enticement for new businesses to move to Mesa
Create accurate reporting on investment within Mesa that can be used to encourage new Chamber membership and growth
Create opportunities for referral that benefit the financial and business segments
Stimulate Mesa's economy with increased capital movement
Create a measurable assessment of Mesa's capital movement and economic growth
Schedule a time to meet with Bob Nelson (see below)
Based on the results of your interview and session work, complete the items identified
Once complete, Bob facilitates a warm introduction to the institutions and others that are deemed the best fit for your opportunity
Beginning your journey to grow your business is as easy as reaching out to Bob Nelson. Through his unique program, Bob's goals include:
Accessing and documenting existing Capital Opportunities for Mesa
Build and implement an intake process for potential program participants
Utilizing the relationship opportunity for a mutually beneficial outcome
For more information, please contact Bob at (480) 969-1307 or email him at bnelson@mesachamber.org