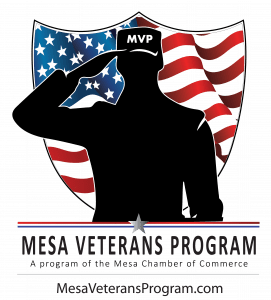 The Mesa Veterans Program is comprised of professionals seeking to support veterans within the
community. Dedicated to giving back to those who have served our country, this committee provides
workforce development programs, educational resources, and services pertaining to the transition between
military and civilian life.
The MVP actively works to understand the needs of Mesa's veterans and has developed a scholarship fund
to further aid them and their families. This group also partners with non-profits, businesses, and
representatives from local and state government in order to ensure change is able to occur. Overall, this
committee invites veterans in the Mesa business community along with any other organization eager to
support and employ U.S. veterans.
When This Committee Meets
This committee meets once every two months with an agenda of topics or opportunities to engage the veterans community and businesses with an interest in veterans affairs. See upcoming meetings in the Chamber Event Calendar.
How to Be a Part of the Committee
Contact Mesa Chamber President and CEO, Sally Harrison, at sharrison@mesachamber.org
Follow this Committee on Social
This committee is also active on Facebook and LinkedIn. Give them a follow.
News of Interest to Mesa Vetrans Program
The Mesa Veterans Program held their September 2022 meeting on Thursday, September 15th. Please find a downloadable PDF of their meeting minutes here. Members and guests are welcome to attend future Mesa Veterans Program meetings by checking the Mesa Chamber of Commerce Calendar for an up to date schedule.