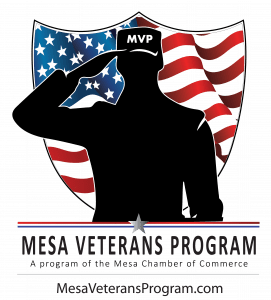 The Mesa Veterans Program is comprised of professionals seeking to support veterans within the
community. Dedicated to giving back to those who have served our country, this committee provides
workforce development programs, educational resources, and services pertaining to the transition between
military and civilian life.
The MVP actively works to understand the needs of Mesa's veterans and has developed a scholarship fund
to further aid them and their families. This group also partners with non-profits, businesses, and
representatives from local and state government in order to ensure change is able to occur. Overall, this
committee invites veterans in the Mesa business community along with any other organization eager to
support and employ U.S. veterans.
Hometown Heroes Banner Program
The Mesa Hometown Heroes Banner Program is a tribute created for the community to honor fallen service members, veterans, and active-duty service members of the United States Armed Forces.
Banners are display on streetlights in Downtown Mesa, in May and November. This program is offered by the Mesa Chamber in conjuction with the Mesa Veterans Program.
Click here to view and learn more about our 2023 Hometown Heroes Banner Participants. To learn more about the program and how to apply for the 2024 display, please click here.
When This Committee Meets
This committee meets monthly, on the third Thursday of the month, with an agenda of topics or opportunities to engage the veterans community and businesses with an interest in veterans affairs. See upcoming meetings in the Chamber Event Calendar.
How to Be a Part of the Committee
Contact Mesa Chamber President and CEO, Sally Harrison, at sharrison@mesachamber.org
Follow this Committee on Social
This committee is also active on Facebook and LinkedIn. Give them a follow.
News of Interest to Mesa Vetrans Program
We describe it to people as 'Shark Tank meets TED talk'. A live event that you can attend (and be a sponsor of), where six entrepreneurs will pitch their new business ideas to five Judges for cash prizes. Submit Your Idea We are looking for great new business ideas. You can make your pitch in…