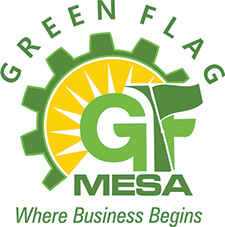 Green Flag Mesa Business Center is a unique partnership between the Mesa Chamber of Commerce and Mesa Community College, providing students with office space, business tools, and the knowledge resources needed to launch a new business venture in today's competitive environment. In this partnership, Mesa Community College students will work in space provided by the Mesa Chamber of Commerce and have access to the business knowledge, experience, and the networking opportunities of Chamber members.
Located at the Mesa Chamber of Commerce's office at 165 N. Centennial Way, Suite 208, Mesa, the remodeled space provides work space for small businesses for up to two years.
Mission:
Green Flag Mesa Business Center provides knowledge and resources to assist student startups in becoming self sufficient within their first two years.
Vision:
To make successful entrepreneurship available to everyone!
Follow the Program:
Facebook | LinkedIn | MCC Profile Page
Sponsor the Program:
The Green Flag Mesa Program is supported by the the Mesa Business Community. Be a part of the program as a sponsor today, email here for details. You can schedule a tour, meet the coordinators and find out how you can be engaged with the program.
Join the Program:
Students at MCC and neighboring Maricopa Community Colleges are welcome to enroll in the program. Learn more at the profile page at the Mesa Community College Website.
We describe it to people as 'Shark Tank meets TED talk'. A live event that you can attend (and be a sponsor of), where six entrepreneurs will pitch their new business ideas to five Judges for cash prizes. Submit Your Idea We are looking for great new business ideas. You can make your pitch in…
The Mesa Pitch We describe it to people as 'Shark Tank meets TED talk'. A live event that you can attend (and be a sponsor of), where six entrepreneurs will pitch their new business ideas to five Judges for cash prizes. Submit Your Idea We are looking for great new business ideas. You can make…
Thursday, April 14, 2022 (1:00 PM – 4:00 PM) (MST) Join us anytime between 1p-4p and meet the current participants in the program. Join us for an open house at the Green Flag Mesa Business Center and meet the incubator businesses of Green Flag. The Green Flag Program supports student entrepreneurs from Mesa Community College…