RAISING CANES FUNDRAISER
The Raising Canes at 1930 S. Greenfield Rd, Mesa AZ will be holding a fundraiser tomorrow from 4:00 p.m. to 9:00 p.m. Stop by, grab a meal and let the cashier know that you want to support Veterans 5-9!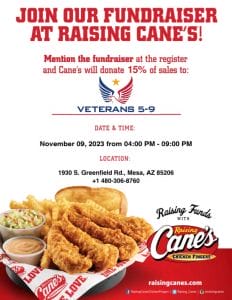 CELEBRATE VETERANS DAY WITH BROADYWAY MESA VILLAGE
Broadway Mesa Village extends a warm invitation to everyone in the community to join its upcoming Veterans Day celebration. The event will take place on Thursday, November 9 at 10:30 a.m. The senior living community promises a day filled with gratitude, respect, and heartfelt tributes to the brave men and women who have served the country. Additionally, there will be a bundle of activities such as the presentation of the colors by Apache Junction's American Legion Honor Guard. Later at 3 p.m., the Hospice of the West will host a program featuring a pinning ceremony. During this event, the significance of each fold of the flag will be explained and the flag will be presented to one of the honored veterans. Towards the evening, "Kids Around the Korner" will perform a special patriotic dance joined by singing. All are welcome to attend and share. For additional information about Broadway Mesa Village, visit their website at https://www.pegasusseniorliving.com/broadway-mesa-village/.
EAST VALLEY VETERANS PARADE
The 2023 East Valley Veterans Parade will take place Saturday, November 11, from 11 a.m. to 2 p.m. It will be located in downtown Mesa along Center Street and First Street. Gather in, honor, thank and celebrate local Veterans, active Military, and their families. The theme for this year is "Vietnam Valor", recognizing 50 years since the end of the war in Vietnam. More details are available at evvp.org.
VETERANS DAY FLIGHTS WITH THE ARMY AVIATION HERITAGE FOUNDATION
Army Aviation Heritage Foundation invites you to fly with them for Veteran's ride day on November 11 at Falcon Airfield, Mesa AZ.